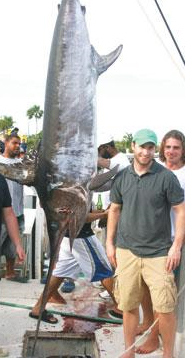 392 pound sword fish caught
by Jason Begg-Smith
As you probably already know, swordfish can come in all shapes, sizes and weights. As we mentioned earlier, the swordfish is one of the largest and strongest fish in the world. This goes without saying that swordfish fishing can be quite a rewardable experience once a swordfish fisherman has caught a record-breaking fish. Here is a list of the most recent Cayman Island Swordfish Records to date:
Sword Fish Record 2012
In 2012, a record was broken at Barcadere Marina in February, 2012 when a record-breaking swordfish was caught off South Sound in the Cayman Islands. The swordfish weight 392 pounds and took 14 hours to catch. Jason Begg-Smith caught the record breaking fish, and at the time, it was the largest catch of the species in history. The swordfish was so heavy that it had to be carried by machinery in order for it be lifted off the boat. This by far is the heaviest swordfish ever caught in the Cayman Islands. Begg-Smith explains below how long it took to reel in the massive fish:
"We were out on Wednesday night at 8pm, off the shelf of the Ritz-Carlton," Begg-Smith said. "I used squid bait and it was hooked at midnight on an 80lb test. I didn't bring it in until 2.30pm on Thursday, it was a 14.5-hour fight. It dragged me along Seven Mile Beach until I was able to land this catch. I also got one that was 90lbs on Monday actually, in a similar area. I got lucky I guess. I got strained muscles, I'm shaking, dehydrated and I got a few war wounds."
For more information on the 2012 record-breaking catch:
http://www.compasscayman.com/caycompass/2012/02/13/Jason-reels-in-record-swordfish/
http://www.cayman27.com.ky/2012/02/10/anglers-reel-in-record-swordfish
http://www.fishhound.com/article/record-swordfish-reeled-grand-cayman-islands
Sword Fish Record 2009
In 2009 Chris Briggs, Charles Ebanks and Curtis White broke the record once again for the biggest and heaviest swordfish caught in the Cayman Islands. In September 2009 the team reeled in a 205 lb swordfish on a 50lb test off of the Cayman Islands. The record-breaking crew hooked the fish at precisely 6:20pm and it took almost 90 minutes to successfully catch.
Sword Fish Record 2007
The Cayman Islands Swordfish Challenge in October, 2007 saw one of the largest swordfish ever caught. Charles Ebanks won three cash prizes in 2007. Out of the 17 boats that were in the competition, Ebanks walked away with 10k in prizes for his 189 pound swordfish.
For more information:
http://www.caycompass.com/cgi-bin/CFPnews.cgi?ID=1026275
If you would like to get on this record-breaking list, it's time to learn more about Swordfish fishing in the Cayman Islands and start practicing! Once you feel that you have enough knowledge and experience under your belt, register for one of the major tournaments and you will experience swordfish fishing with the best.